September 2017: Taylor & Francis Online
News / Event's Date:
4th September 2017 until 30th November 2017
We are pleased to inform that we have an Online Database on trial titled 
Taylor & Francis Online.Trial Date 
: 4
th
September 2017 until 30
th
November 2017
URL 
: 
http://tandfonline.com.ezproxy.taylors.edu.my/
Description:
Taylor & Francis Online is an online resource platform that connects you to the latest research developments, consisting of over 1,900 journals across 19 key subject disciplines. 
Here are the main subject areas you might find useful for your research or teaching:
·         Social Sciences and Humanities
·         Science & Technology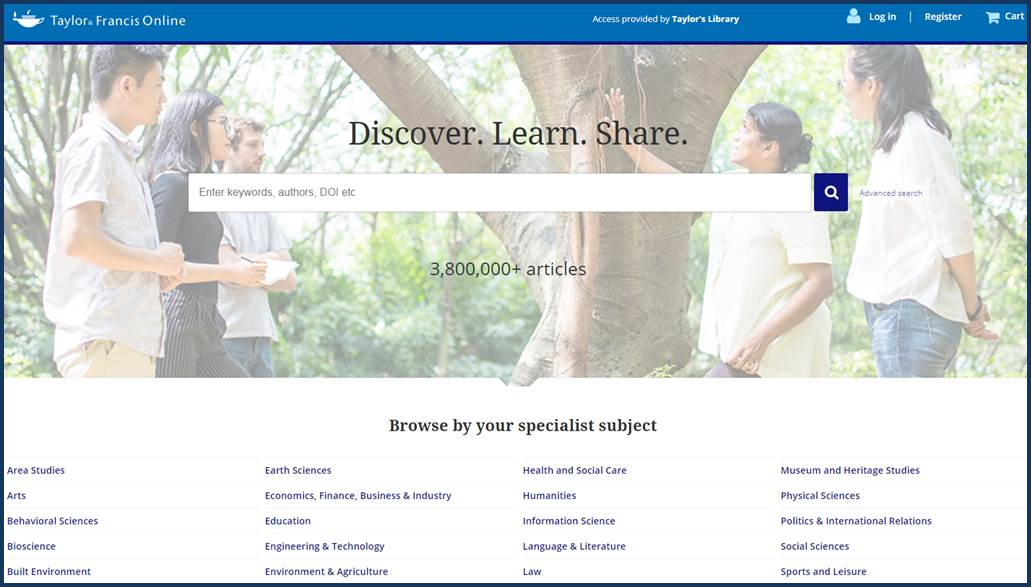 The databases can either be accessed on or off campus. 
When on campus, the databases can be accessed from the 
Taylor's Library Website
(
http://taylorslibrary.taylors.edu.my
) 
>>Resources>>Online Databases
 or you may use the URL provided
. 
The use of this database is restricted to Taylor's staff and students.
For remote access (either from home or off campus), please use your computer network login and password.
If you require any further information please e-mail 
acqlibser@taylors.edu.my
 or  
libraryenquiry@taylors.edu.my
Following the launch of this new database, Taylor and Francis is having a 'Search & Win' Quiz
Click Here to stand a chance to win exciting prizes from them!
Here are the term and regulations of the contest;
Please do take note that the winners will be notified via email before 07 December 2017.
A valid email address is required to claim the prizes, and the winners will have to reply via email within 2 weeks to claim the prizes, else it will be forfeited.
Prizes will be delivered to the winner's Institute/library.